Best Power Strips and Surge Protectors to Keep You Going
Today, power strips often incorporate USB ports and surge protection. The proliferation of wireless handheld devices that charge at lower voltages make surge protection more important than ever. What most people don't know about surge protectors is that they wear out over time. Every time they absorb a voltage fluctuation, their lifespan is shortened. You'll probably know if you've had a lightning strike, but you might not know that every time an electrical appliance cycles on or off, there may be small voltage spikes degrading that surge protector every day. So, to be sure you're getting the most protection you can, it's a good idea to replace them every two to three years.
How We Selected These Power Strips
These power strips were carefully selected by our test editors after rigorous research and our knowledge using similar products. We have included brands and features we know and appreciate when it comes to our own experiences and needs when considering power strips. The 12 power strips included below are some of the most useful models available today.
---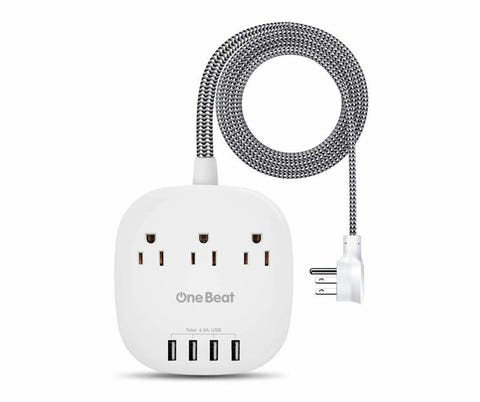 This desktop power strip gives you three outlets within reach, in addition to four USB ports. The five-foot cord is covered with braided black, white, and grey cloth, giving it an elegant retro look. And a flat plug on the cord means you'll be able to push the desk right up close to the wall.
3-Outlet Travel Surge Protector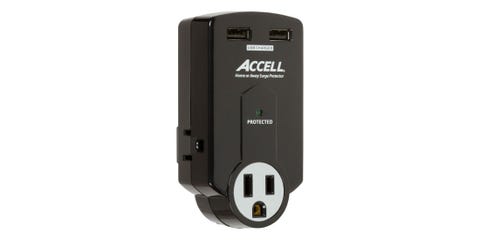 This portable surge protector sports two USB ports and one socket, perfect for when you're on the road and want to ensure extra protection for your electronics. The surge protector itself won't obstruct your bottom wall outlet when it's plugged in.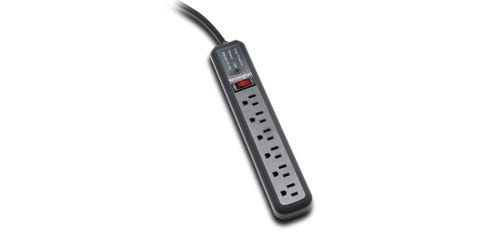 The last thing you want to do with a power strip is daisy-chain one with an extension cord. If you need to plug in a couple of devices far from a wall outlet, you'll need a surge protector that has a long cord of its own, like this 15-foot one from Kensington. It's no-frills otherwise, but it will provide 540 joules of protection and has an LED light to indicate that your gear is actually protected.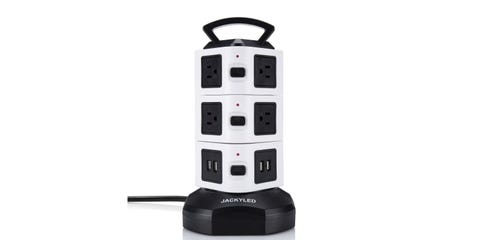 Well suited to the edge of a desk or the corner of a room, the JACKYLED power strip tower has 10 outlets, four USB slots, and a six-foot cord, so that you can plug in devices from multiple angles. It has 780J protection and a small handle on top so you can lift/move it easily.